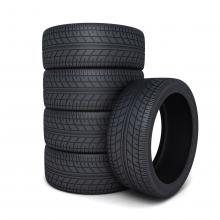 Tires are something we do a lot of at Bennett's.  From a simple tire plug to tire replacement, rotation or alignment...we take care of it all.  We have a wide variety of new tires available, from the familiar major name brands to the not so familiar ones.  We can help you locate a specific tire you're searching for or make recommendations to help you choose the right tire for you and your car or truck.
You may find tires a little cheaper in the big box stores, but they won't be able to offer you the quality and service that comes from real experience.  We're good at tires.
Check your tires.
Worn, damaged or out of balance tires are often the cause of front or rear end vibration and rough rides.  A bad tire or alignment issue can also cause a wobble or pull feeling in the steering. If you think you have a tire problem have it checked immediately.
The last thing you want to happen is to be stranded or have a tire blow out while going down the road.  Safety first!  Stop in to Bennett's, we'll check your tire condition and air pressure so you don't have to.  
.