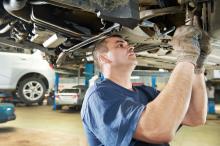 This is how we keep our customers rolling down the road.  Smart car and truck owners have their oil and oil filter changed at regular intervals.  These intervals may be determined by your mechanic or the vehicle manufacturer. Suggested service intervals do vary depending on the type of oil used and driving habits. Performing regular oil changes can extend the life of your car indefinitely.
When performing an oil and filter change we include a multi-point inspection. The results of the inspection allow us to inform you of needed maintenance and pending or current mechanical problems. After the inspection we may provide you with recommendations and estimates for needed or future repairs.
Exhaust Systems
High mileage and Wisconsin winters can wreak rusty havoc on your exhaust system.  When your exhaust gets noisy, bring your vehicle to Bennett's.  We will determine whether all or part of your exhaust system needs replacement.
Extreme Wisconsin temperatures can be hard on a vehicle as well.  A good way to keep your vehicle in good working order is to schedule an inspection in the spring and fall.  Bring your vehicle to Bennett's Auto Service in Middleton for preventive maintenance and to avoid an inconvenient and potentially costly breakdown.